Dolphin Oasis Z5i Robotic Pool Cleaner
Quick Overview
The Oasis Z5i is a brand new cleaner that's really making waves! With is outstanding warranty, all over pool coverage, easy top access, and amazing cleaning technology it is superior to most residential pool cleaners on the market.
This cleaner requires a signature upon delivery. Please make arrangements to ensure you receive your shipment on time.
Description
Dolphin Oasis Z5i: A new standard for robotic pool cleaners.
The Dolphin Oasis combines the power of a commercial cleaner for the residential pool owner! No other robotic pool cleaner comes close to the technology, cleaning power and ability of the Oasis Z5i. Algae, silt, sand and debris are no match for the Z5i's filtration system.
---

3-Year Best in Class Warranty
A technologically superior robotic cleaner with best in class features, the longest warranty available, and legendary Dolphin performance.A top-of-the-line robotic cleaner should have a no-nonsense warranty that protects your investment. The Dolphin Oasis Z5i delivers. And unlike many Dolphin pool cleaners the Dolphin Oasis Z5i warranty is valid for online purchases. It's hands down the best warranty in the industry. The warranty is applicable only to the country in which the pool cleaner was purchased.
---

CleverClean™ Scanning
CleverClean™ coverage is powered by an advanced navigation system and scanning software. This ensures that every inch of your pool — walls, floor and waterline — are cleaned using the most efficient route. So smart, the system automatically navigates around obstacles and quickly returns to its route.
---

MyDolphin App
With this easy-to-use app you can register your Dolphin robot pool cleaner online and control it remotely. This allows you to manually control the cleaner with your smartphone over bluetooth.
---

Thorough Brushing
Effective brushing and scrubbing system minimizes bacteria and algae development and ensures hygienic, clean and healthy pool water.
---

Floor, Cove, Walls & Waterline
Brushes, scrubs, vacuums, and filters the entire pool including the floor, walls and waterline. Precise cleaning removes oily layers & build up.
---

Dynamic Dual Drive (360°)
Dynamic dual drive-motor for precise 360° pool maneuverability and coverage, regardless of shape, slope and obstacles.
---

DIY Easy Maintenance
Minimize downtime. Ground-breaking modular design means each of the modular components can be easily replaced in just minutes.
---

Power Supply
Small, lightweight power supply employs simple and integrated circuitry to achieve high performance, low voltage, & low energy consumption.
---

Cable Swivel
The unique cable swivel and tangle-free operation provides hassle-free pool cleaning. Without a swivel, every cable becomes a tangled mess.
---

Top Access
The Oasis provides top opening filtration compartments making it easy and convenient to replace filters and maintain a healthy pool cleaner.
---
---
Dolphin Oasis Specifications
Cycle time: 1.5/2.5 hours
Cable length: 59 ft ( 18 m )
Filter porosity: Dual-level filtration - Top Load, Fine and Ultra-Fine Cartridge
Weight: 24 lbs ( 11 kg )
Suction rate: 4490 gallons ( 17m3 ) per hour
Motor unit voltage: 24 VDC
Power supply: Digital switch-mode, IP 54, Output less than 30 VCD
Pool type: In-ground
Pool size: Up to 50 ft
Pool shape: Rectangle, lap, kidney, L-shape, round, oval
Surfaces: Vinyl, gunite/concrete, fiberglass, tile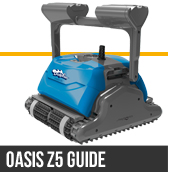 Specifications
| | |
| --- | --- |
| Product Title | Dolphin Oasis Z5i Robotic Pool Cleaner |
| Brand | Maytronics |
| SKU | DOLPHIN-OASIS |
| Remote Control | No |
| Cleans | Pool Floor, Sidewalls, And Waterline |
| Filters | Dual-cartridge top load filtration system |
| Drive System | Dual Track Drive |
| Cord Length | 59' |
| Condition | new |
| Weight (in lbs) | 24.0000 |
| Warranty | 3 year warranty |
| Supplier SKU | MAY-20-1099 |
Reviews
Customer Reviews
Awesome improvement - Review by

Mike

This replaces an older Dolphin that gave years of service with no problems. The improved non tangling cord is awesome, no more rat nests. Cleaning speed and quality also greatly improved. Caddy improved, stronger construction and rubber capped wheels. Filter screens much easier and faster to clean than old filter bag. (Posted on 8/21/2014)

---

WOW should have done this a long time ago - Review by

JerriEric

I have had a Kreepy Krauly for about 20 years. It worked ok but was not great. I bought the Z5 hoping it would be better. I could not be more satisfied. I put it in the pool and come back when done and the pool is clean. I am getting really obsessed with cleaning now. After running the Z5 and I see one bug in the pool I have to go get it with the remote. What a great product! (Posted on 8/3/2014)

---

Better than we ever expected! - Review by

Miss Jenny

We did our online reviews and determined we needed this type for our kidney shaped pool. Used it to clean the water after removing our winter cover. We had a tremendous amount of pollen and could never seem to get it out through the summer without power flocking and sucking it out wasting time and water. Works on pollen, pine neededles and anthing else that it can suck up. Filters are easy to remove, clean and reinstall.

Could not be happier!!!

Also, no more cleaning service. (Posted on 5/16/2014)

---

Very good pool cleaner with a great price - Review by

Maureen Ellis

This is the first robotic cleaner we've had, since we are new to pool ownership. After an apprehensive first cleaning (is it really worth the price?;) we are very happy. Drop it in the water and it cleans very well. I don't know how it knows where to go, but it seems to get most of the pool clean. It does have some problems in one corner of our shallow end, but it is an odd shape and with the remote to help guide it to the problem areas I can get it clean still. I also like the remote so I don't have to wait 2 hours for it to finish cleaning every time. Sometimes you just need a "touch-up". The cord is very long and somewhat heavy for me to wrap around the caddy, but I think they are all that way? I did a lot of research on robotic cleaners and looked at Haywards and Aqua Bots and Swimjets, and I am very happy I chose the Oasis 5. We've named him Robby and our grandson loves to watch him go. (Posted on 3/28/2014)

---

Wonderful - thanks dolphin! - Review by

Norcal Pool Owner

I really wanted a Supreme M5 but say you can't purchase them online. Read a review on the Z5 and rolled the dice on this one. So far I've only had it a little while but it blows my last pool cleaner out of the water (no pun intended). The cord is plenty long and no chance it's ever going to get caught up again. It does a great job cleaning the pool - bottom and walls. I'm running it twice a week and it picks up everything. We get a lot of debris from our neighbor's tall eucalyptus trees.

The filter cartridges traps all the fine particles, so the pool water has never been cleaner in the years we've had the pool. I'm able to cut back a couple hours every day on running the DE filter since this cleaner is augmenting the filtering. (Posted on 3/28/2014)

---

Super cool - Review by

Jackson

It is really awesome to see how the navigation system works all over your pool. I had a kreepy krauly before, and it just sort of wandered all over, but this thing has some sort of computer that tells it where to go. Genius. I couldn't be more happy with this purchase. The cleaning time is a little slower than other cleaners I looked at, but this one cleans more thorough, and thats more important to me. (Posted on 3/28/2014)

---

Quick Shipping - Review by

H. Strickland

Dolphin Oasis works great, and customer service was super helpful. Would buy from this retailer again. (Posted on 3/28/2014)

---

easy cleaning - Review by

TomFitzpatrick

I never had a pool cleaner before this one so it's hard to compare but this one seems great. I threw it in the pool and turned it on and before you know it, it was clean. Sure beats scooping with a net for half the day. (Posted on 3/28/2014)

---

Great so far! - Review by

Laura

Just got our cleaner a week ago and so far so good! We used to have a side suction cleaner and we wanted to try something different. Our pool robot cleans the floor of the pool, does a terrific job on the walls and tiles, and even seems to do the steps. Our pool is a kidney shape, 27,000 gal. and it takes it about 2.5-3 hrs to run the cycle. My only regret is that I didn't have one of these cleaners when the pool was first put in 15 years ago! If you have a pool, you really need one of these, it's an awesome little machine. (Posted on 3/28/2014)

---